Posts for category: Uncategorized
By Alliance Dental & Orthodontics
March 27, 2019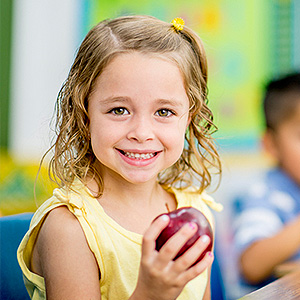 Besides daily hygiene and regular dental visits, the best thing you can do for your kids' dental health is to see that they're eating a nutritious diet. And not just at mealtime—healthy snacking also promotes healthy teeth and gums.
Healthy snack foods are quite similar to their counterparts at mealtime: fresh fruits and vegetables, whole grains and low-fat dairy. At the same time, you should avoid providing processed snacks high in sugar, salt, unhealthy fats and calories.
Managing snack choices at home is usually a simple matter of discipline and follow-through. When they're at school, however, it's a bit trickier as they may encounter snacks sold on school grounds or offered by fellow students that don't meet your definition of a healthy food. Public schools follow nutrition guidelines from the U.S. Department of Agriculture (USDA) on snacks sold on school grounds, but many dentists don't believe the standard goes far enough to protect dental health.
So, what can you do to combat these less healthy snack choices your kids may encounter at school? For one thing, you can work with your child's school officials to exceed the USDA guidelines or turn off snack vending machines right before lunch to lessen kids' temptation to skip lunch.
You can also interact with your children to better manage their schooltime snacking. But rather than issue blanket commands about what they should snack on at school, help them instead understand the difference between nutritional foods and less nutritional ones, and why it's important to choose healthy snacks for their life and health.
Finally, don't send them to school empty-handed—pack along nutritious snacks so that they won't seek out vending machines or their classmates to satisfy the munchies. You can supercharge your efforts with a little creativity (like a dash of cinnamon in a bag of unbuttered popcorn) that make your snacks fun and more enticing than other school ground options.
It's not always easy to keep your kids from unhealthy snack choices. But with a little commitment, interaction and ingenuity, you can help steer them toward snacks that are tooth-friendly.
If you would like more information on boosting your child's dental health, please contact us or schedule an appointment for a consultation. You can also learn more about this topic by reading the Dear Doctor magazine article "Snacking at School: How to Protect Your Child's Teeth and Promote Good Nutrition."
By Alliance Dental & Orthodontics
July 10, 2018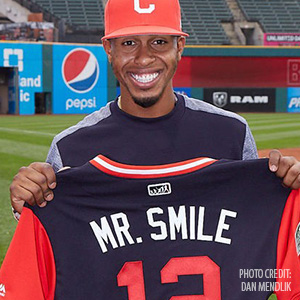 At the first-ever Players Weekend in August 2017, Major League Baseball players wore jerseys with their nicknames on the back. One player — Cleveland Indians shortstop, Francisco Lindor — picked the perfect moniker to express his cheerful, fun-loving nature: "Mr. Smile." And Lindor gave fans plenty to smile about when he belted a 2-run homer into the stands while wearing his new jersey!
Lindor has explained that he believes smiling is an important part of connecting with fans and teammates alike: "I've never been a fan of the guy that makes a great play and then acts like he's done it 10,000 times — smile, man! We've got to enjoy the game."
We think Lindor is right: Smiling is a great way to generate good will. And it feels great too… as long as you have a smile that's healthy, and that looks as good as you want it to. But what if you don't? Here are some things we can do at the dental office to help you enjoy smiling again:
Routine Professional Cleanings & Exams. This is a great place to start on the road toward a healthy, beautiful smile. Even if you are conscientious about brushing and flossing at home, you won't be able to remove all of the disease-causing dental plaque that can hide beneath the gum line, especially if it has hardened into tartar, but we can do it easily in the office. Then, after a thorough dental exam, we can identify any problems that may be affecting your ability to smile freely, such as tooth decay, gum disease, or cosmetic dental issues.
Cosmetic Dental Treatments. If your oral health is good but your smile is not as bright as you'd like it to be, we can discuss a number of cosmetic dental treatments that can help. These range from conservative procedures such as professional teeth whitening and bonding to more dramatic procedures like porcelain veneers or crowns.
Tooth Replacement. Many people hide their smiles because they are embarrassed by a gap from a missing tooth. That's a shame, because there are several excellent tooth-replacement options in a variety of price ranges. These include partial and full dentures, bridgework, and dental implants. So don't let a missing tooth stop you from being Mr. (or Ms.) Smile!
If you'd like more information about oral health or cosmetic dentistry, please contact us or schedule an appointment for a consultation. You can also learn more by reading the Dear Doctor magazine articles "Beautiful Smiles by Design" and "The Impact of a Smile Makeover."
By Alliance Dental & Orthodontics
April 14, 2017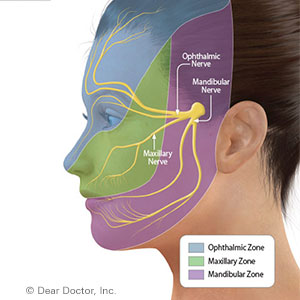 Life would be harrowing if we had no ability to feel pain. Although experiencing it is unpleasant, pain's purpose is to alert us to something wrong in our body. Without pain diseases and other problems could worsen to the point of life-threatening.
But pain without a purpose — the nerves simply misfiring — can make life miserable. This can happen with the trigeminal nerves that exit the brain stem and end on each side of the face. Each nerve has three branches that serve the upper, middle and lower parts of the face and jaw.
When they don't work properly, trigeminal nerves can give rise to a disorder known as trigeminal neuralgia. Beginning often as an occasional twinge, they may escalate to several seconds of mild to excruciating pain occurring over weeks, months or even years. An episode may erupt from chewing, speaking or even lightly touching of the face.
We see this condition most often in people over fifty, particularly women. We don't know the exact cause, but there's strong suspicion that the nerve's protective sheath has been damaged, similar to what occurs with multiple sclerosis or other inflammatory conditions. Another possibility is a blood vessel putting pressure on the nerve and disrupting its normal operation. Such an impinged nerve might transmit pain signals at the slightest stimulation and then fail to "switch off" when the stimulation stops.
Although we can't cure trigeminal neuralgia, we can help you manage it and reduce discomfort during episodes. We'll first try conservative, less-invasive techniques, like signal-blocking medications or drugs that reduce abnormal firing.
If these aren't effective, we may then recommend a surgical solution. One such procedure is known as percutaneous treatment in which we insert a thin needle to selectively damage nerve fibers to prevent their firing. If we've determined an artery or vein has compressed the nerve, we might surgically relocate the vessel. These techniques can be quite effective but they do have possible side effects like numbness or hearing loss.
If you've experienced facial pain, don't continue to suffer. Visit us for a complete examination and learn about your options for pain relief. More than likely, there's a way to reduce your pain and improve your quality of life.
If you would like more information on facial pain, please contact us or schedule an appointment for a consultation. You can also learn more about this topic by reading the Dear Doctor magazine article "Trigeminal Neuralgia."